Brotli Compression: How Brotli Impacts SEO?
What is Brotli Compression?
Brotli is an open source, compression algorithm for browsers which brings big improvements to the compression ratio. This allows better space utilization and faster loading times.
Brotli has a better compression density than gzip that reduces bandwidth consumption and helps content load faster. That means enabling Brotli compression in your browser also help to consume less data enabling you to save on precious data limits.
Brotli is developed by Google and works well with text-based static resources  – js, css, html & json compression.
Since brotli is open source, it's freely available as an add-on to web hosting providers and CDNs.
How to Test Brotli Compression
You can test if your website supports broli compression using online tools. One suchi is KeyCDN's Brotli test tool.
How Brotli can Improve SEO?
Google is obsessed with speed. Google has indicated that site speed is one of the signal for their ranking algorithm. One of the way you can make your site faster is by allowing compression. Brolti has proven to compress files up to 20% smaller than gzip compression. Therefore, with brotli, resources can be compressed way better than gzip.
With the file sizes compressing faster, the page load time decreases and makes the website load faster This improves the user experience. An efficient and fast loading website performs better and provides a better user experience.  Therefore, using brotli compression can improve SEO and helps to rank your sites better on the SERP.
How Fast is Brotli?
According to Expedited Security:
Javascript files compressed with brotli are ~14% smaller than gzip
CSS files are 17% smaller than gzip
HTML content is 21% smaller than gzip
The Story of OYO
Oyo decided to serve Brotli from their web servers (Brotli from Orgin approach). This helped them to improve their latency by whoppping 37%, Damn! Oyo saw a 15% reduction in JavaScript sizes and a 20% reduction in CSS with Brotli compression.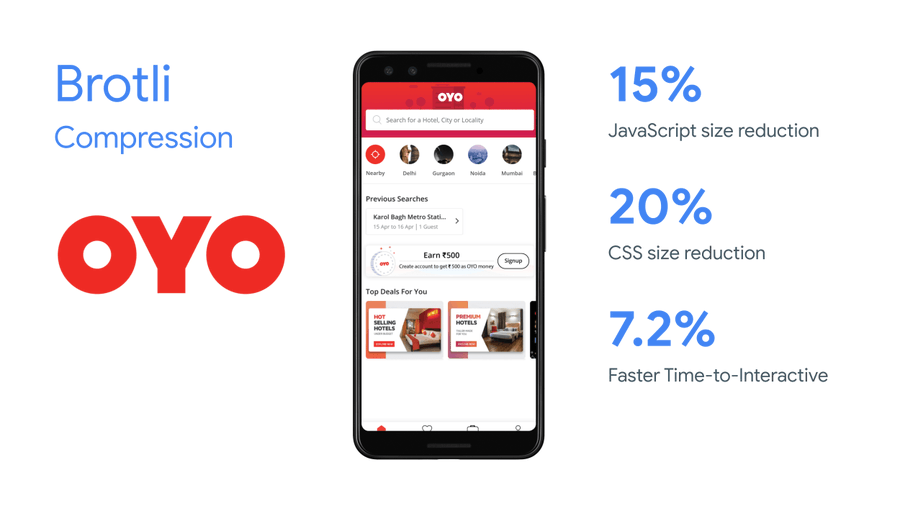 How Brotli Works?
When a user wants to accesses a web application running on a server that supports brotli, the browser notifies the server on what type of content it can be decompressed.
This decompression of content is done by using the Accept-Encoding header
The server then decides what type of compressed content to deliver based on the compression algorithms in the request
Now the server sends a Content-Encoding header to the browser, indicating the method used
The data is decompressed by the browser and is then displayed to the user